What's new
Disrupting what has been complex and expensive to build a Corporate Booking Solution for everyone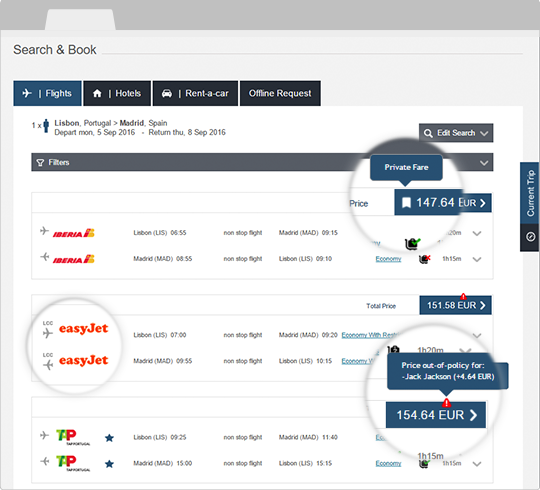 Low Cost Carriers content
Integration of generic and agency custom content from low cost carriers and ability to define, globally or per company, fees, carrier preferences, payment logic, and if the option of creating passive GDS segments is selected you can also set specific queues for this content.
Fastest search response time
We have put a lot of effort improving our content search response time to be the fastest CBT search engine around and we made it. Companies have no time to lose, so performance is key thus being one of our commitments in which we will continue to invest.
Customization
By letting travel agencies activate the content and features per company, customization offers travel agencies the ability to tailor the tool according to their own and their companies' specific needs allowing travel agencies to offer their clients a solution as settings-rich as each client wants.
Add Funds
This area lets travel agencies add funds to the application, which are used to pay for the costs associated with the non-free available contents and features.
Current Account
It shows you the current balance of your current account and lets you also track all the transactions related with the non-free content and features.
Reports
Set of reports, mainly focused on allowing agencies and companies to export all relevant data from the system for offline handling.
Notifications
This area allows you to easily track information about changes made in the application namely content and feature status changes.
MIR Generation
Option to generate MIR (Machineable Interface Record) at booking time enabling travel agencies to integrate booking information into their back-office systems. Only available for Apollo and Galileo.
Reorganization
Some areas have been reorganized to offer a more intuitive experience so you will easily get used to it.