What makes TTS Corporate different
Disrupting what has been complex and expensive to build a Corporate booking Solution for everyone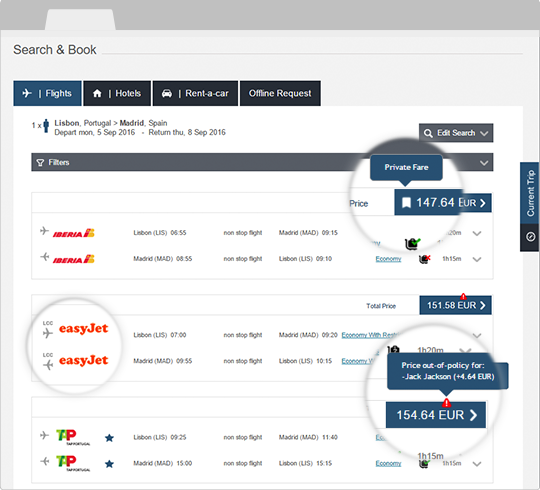 One minute registration
Travel agencies can self-register in less than a minute and then create their companies, customize TTS Corporate per company, set it up and start using it. There are no adoption risks.
Apollo, Galileo and Worldspan
TTS Corporate integrates with and only Apollo, Galileo and Worldspan, giving Travelport the competitiveness advantage of being the only GDS that can offer a CBT which pricing model makes it a real option for any of its travel agencies' subscribers.
Offers multiple content
Offers multiple content types, like network and low cost carriers, hotels and rent-a-car. We will continue to add more content to TTS Corporate, so it can be the companies' gate to all business trip related services. This year you can expect new content types like Taxi, Transfers, Rail and others.
Fastest search response time
We have put a lot of effort improving our content search response time to be the fastest CBT search engine around and we made it. Companies have no time to lose, so performance is key thus being one of our commitments in which we will continue to invest.
Customization
By letting travel agencies activate the content and features per company, customization offers travel agencies the ability to tailor the tool according to their own and their companies' specific needs allowing travel agencies to offer their clients a solution as settings-rich as each client wants.
Travel corporate compliance
Because autonomy means more productivity, travellers' autonomous booking is widely desired, so TTS Corporate offers travel policy compliance status during all the booking process and applies the applicable approval workflows to guarantee companies' travel rules are respected whenever they exist. It offers an advanced simple and intuitive travel policy set up which covers the most used parameters in the industry.
Aligned with the Travel Agencies Business Model
Without the traditional booking and implementation cost, travel agencies pay only for what they use so they can actually use it for free for all companies or subscribe, per company, only the advanced content and features each company needs. There are no commitments of any kind. Through the advanced settings available for each content type, like Fees, Preferences, payment methods setup among others, agencies insert per company the business rules agreed.
User experience
Simple is our motto! And note, simple doesn't mean less, it just means simple to use. Legacy CBTs are known for having complex configuration schemes that usually need specialized and full dedicated teams just to setup and maintain who to start using these systems need long training. Well, TTS Corporate couldn't be more different and to accomplish our mission to democratize CBTs, we had to be, since most part of travel agencies with SMEs travel business couldn't have those teams. So, TTS Corporate is really simple to customize and set up for the travel agency, no training needed since our on boarding and intuitive experience helps users to understand their ways around the application and get the work done and the booking experience is pretty much like online booking making it as simple as it gets.
Runs on desktop, laptop, hybrid and mobile
TTS Corporate is a web-based application and it's available for iOS and Android in the respective app stores thus supporting all devices, desktop, laptop, hybrid and mobile, giving the traveller the mobility he needs to plan his business trips.